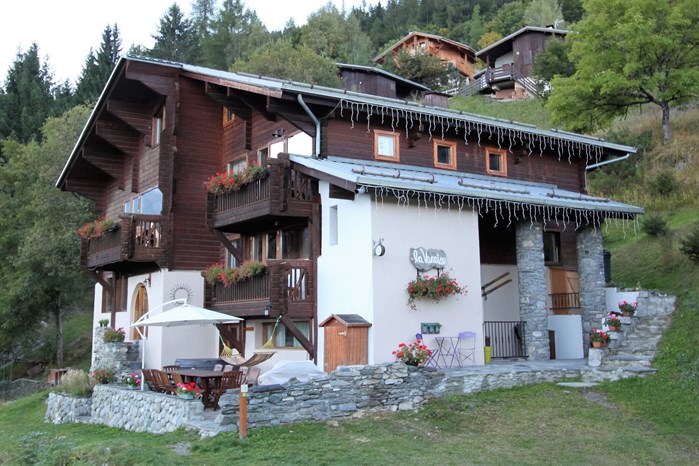 Our summer site is currently under construction however we have attached an email received from one of our guests who spent a wonderful 2 weeks in our chalet in August.  Our staff are on hand to get your rooms ready and to help you during your stay.
"We ate out on the decking every night. We had a fantastic holiday and from talking to other friends, it's clear many are jealous as they just sat by a pool or stayed in a hotel. We have definitely made people think about the Alps as a summer holiday destination.

Info for you... our Rafting was organised by Dom at the bike shop and we ended up at Raft France, they were really well organised and well worth the money we paid. The lady we saw when we arrived there was English and was really helpful and friendly and whilst we were rafting she rang around and got us paragliding booked for Samuel the next day.  The paragliding she found for us was a totally amazing experience for Samuel and again the guys that did that were brilliant and the  DVD they produced in the back of their car was awesome....really would recommend them.
Ate at La Bovat too, really good food and friendly too as this was the restaurant that Harry had initially chosen where he wanted to eat on his birthday but they close on Sundays. We did so much more this time around, even got Steve ice skating, something he hasn't done since he was 15...Even saw a nun skating around, must admit not seen that before...we had such a great holiday, time just flew by. 
The chickens did you proud, we ate all the eggs, poor Jeb didn't get a look in....tell Jeb i showed the Dvd to the guys that do our elearning videos in the police and they all thought it was brilliantly edited. and yes ours have all gone back to school now, Samuel taking the paragliding DVD in for show and tell, not many 10 year olds have done paragliding....
Looking Forward to another year and more mountain adventures.
Zoe Longfield and Family
We are currently taking Enquiries for Summer 2019.